Over this past three day weekend, I went shopping around Chiba Station to take advantage of the awesome New Year's sales! And a day of shopping is also the perfect excuse to take breaks at chill cafes in between all the self-indulgence.
After conquering one half of the station in the AM, we wound up near by Chiba Chuo Station on the Keisei Line (京成千葉中央駅). It was a little past lunchtime, and we were starting to feel hungry - but I was bent on going somewhere I'd never gone before! We decided to try out
Rix's Cafe
, right across from the less crowded entrance to Chiba Chuo Station. I'd heard a lot of good things about this place...and I was quite satisfied with it too!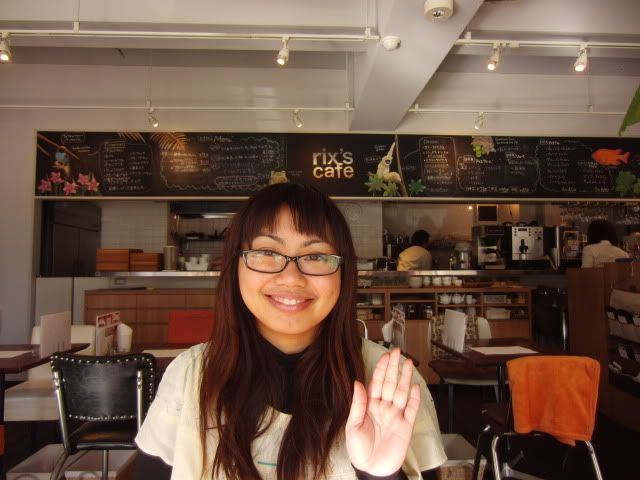 I wanted to gracefully gesture to the awesome chalkboard menu (I have a thing for chalkboards) but instead it looks like I am trying to wave awkwardly...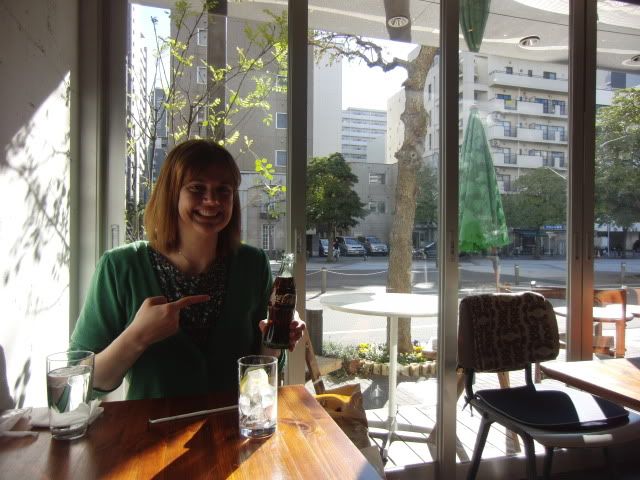 Coke! Giant windows! A lovely patio! And you can't tell so much in the photo, but many of the lighting fixtures and furniture are mismatched tastefully. I love cafes!!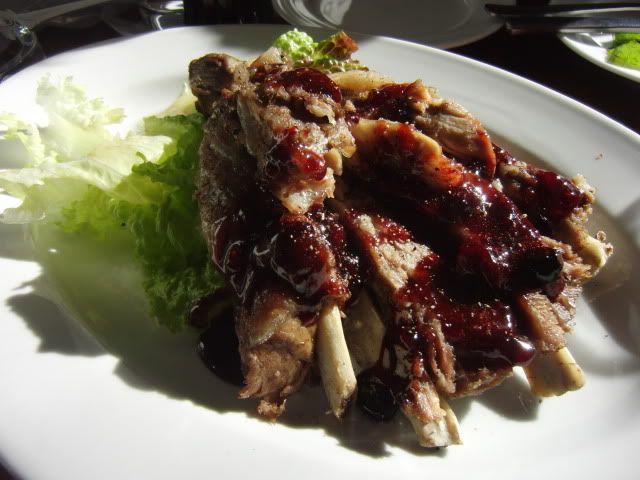 Lunch!
We chose the "spare ribs drizzled in seasonal fruit sauce" (<-- yes, that is translated...I promise it sounds way tastier in Japanese). Actually, we tried to order two of these but the waitress stared at us like we were insane...with good reason! There was actually a lot of spare rib, but for a very reasonable 1500 yen I think?
We also got this baby too: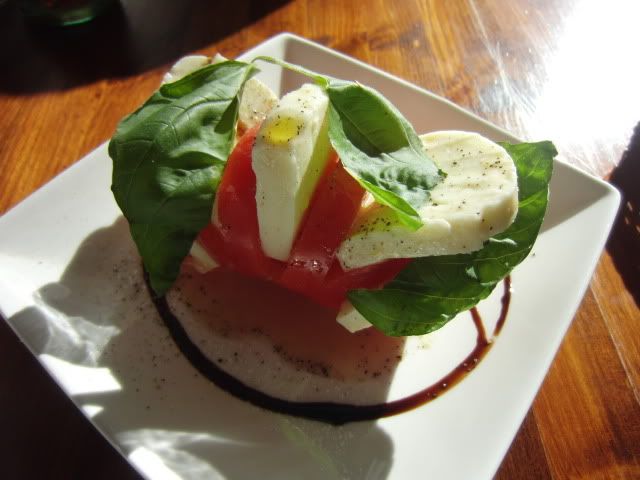 Tomato...something something. But it is stuffed with giant slabs of CHEESE! How could it not be amazing??
Their desserts looked amazing too, but we were stuffed with spare rib...I must add this place to my rotation so I can try more of their stuff! They also had super adorable くまマカロン for sale by the register -- a great take home snack to brighten up a dull day?
...We went poking around Chiba PARCO before we decided we were done shopping, and it was time for another break! This time, I was determined to go get waffles at a cafe I've favored since before I moved up to Chiba.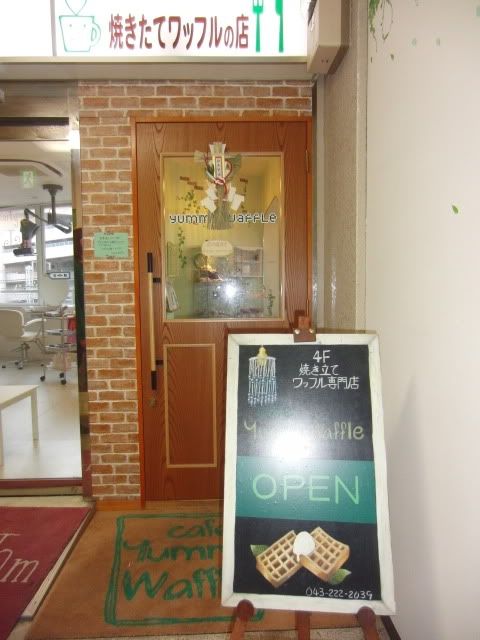 Cafe Yummy Waffle! The name leaves no room for doubt.
If you've never been to
Cafe Yummy Waffle
before, the location might be a little difficult to find because it's located on the 4th floor of a rickety looking building along the train tracks connecting Chiba Station and Chiba Chuo Station.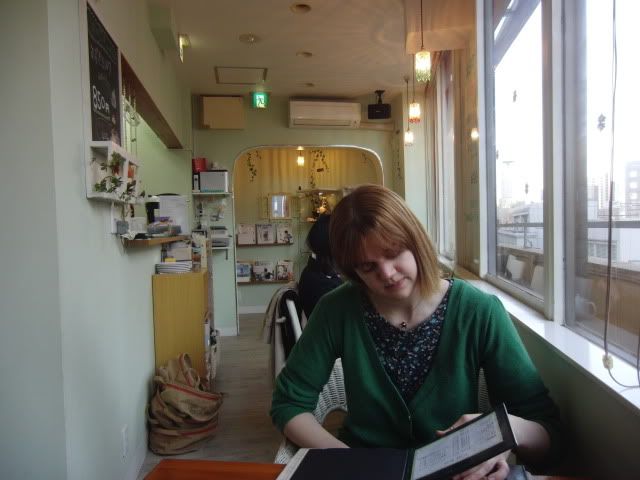 Not to mention, the cafe is really really tiny! This is pretty much the entire cafe, except for the 4 person table to next to us (to the left). So I believe this place can only seat 10 people at a time...this day, we got lucky and it was fairly open - I guess everyone else was still enjoying the New Year's sales. It has been awhile since I last came here though, so it was a pleasant surprise when one of the cafe people came to give us the menu and said something along the lines of "it's been awhile"! :)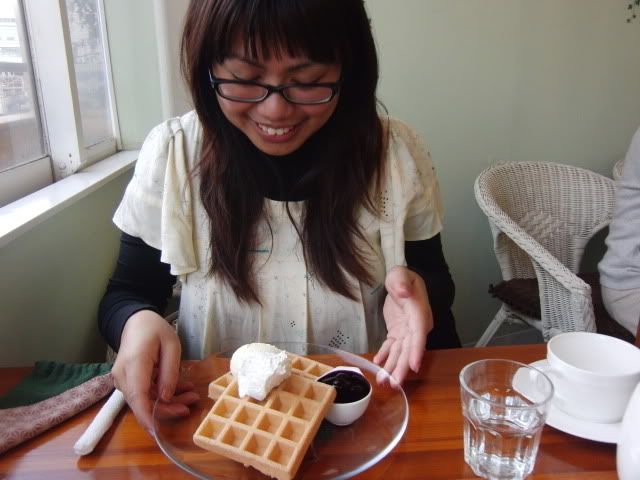 Fluffy, but crispy...super delicious waffles!!!
This day I ordered waffles topped with ice cream and homemade blueberry sauce. Usually I order the waffles topped with honey and cheese cream (actually no, not cream cheese!) but I felt like having something different, and I was not disappointed with the result!
I must admit that this cafe is strangely pricey though...800 yen for a couple of waffles? Really??? It stops me from coming constantly, but it is not enough to bar me from this place all together. The texture of the waffles is
perfect
, and there is something relaxing about this place, even if it is really tiny.
Anyway, cafe hopping was great! I haven't done nearly as much exploring around Chiba City as I have wanted to, and I want to change that this year. I just know that Chiba has a lot more to offer than meets the eye!