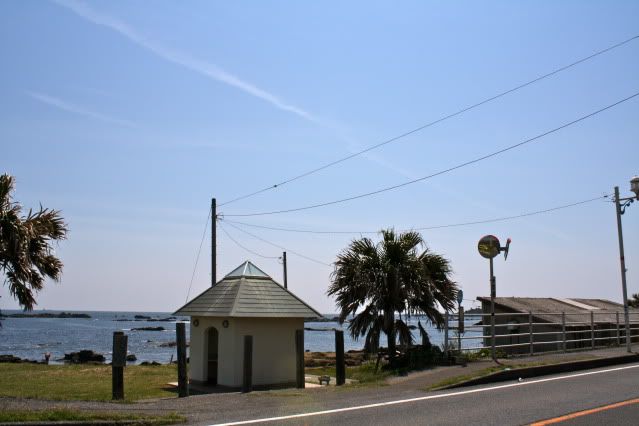 Once again, our story begins on a gorgeous day in southern Chiba. Overdue for some good old catching up, a few friends and I decided to get together for lunch. I had gone to this amazing restaurant in Minamiboso's Shirahama area over Golden Week, but the weather had been incredibly depressing, so I needed to go back on a sunny day. This lunch was the perfect opportunity for my rematch!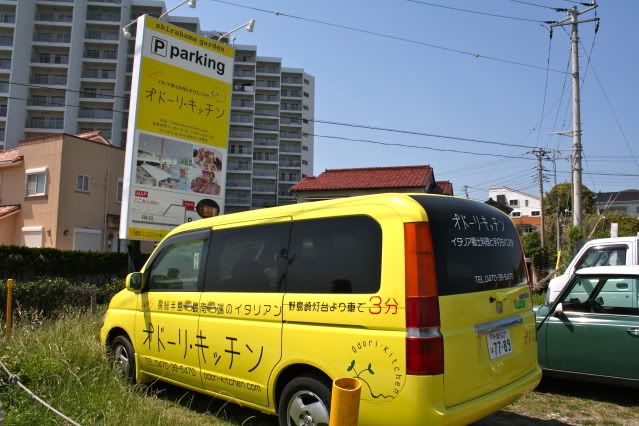 I kinda wanna ride this van...
You'll find the parking lot right off the main road, the giant bright yellow sign and van are hard to miss. I've only been for lunch so far, but apparently the restaurant offers (free?...I think.) transportation for people living/staying in the area in the evenings...great if you are looking for a drink along with their dinner menu, which sounded amazing! But I digress...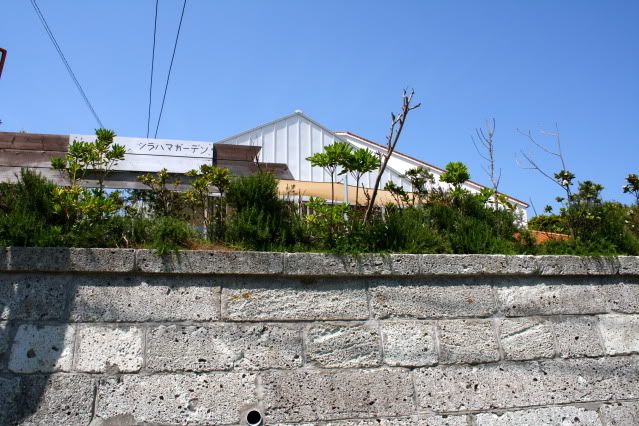 From the parking lot, take a stroll up the hill...at the top, you'll find this tiny little structure.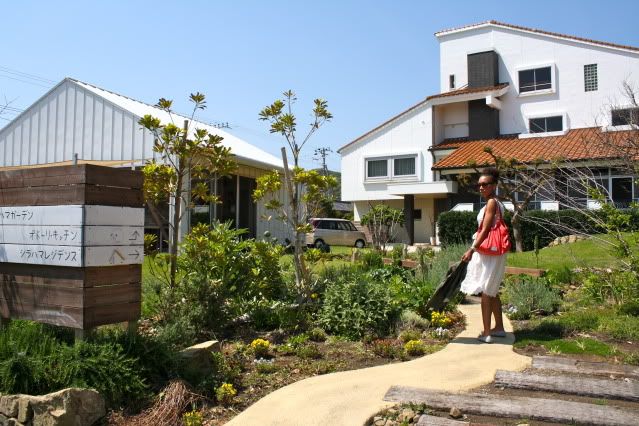 Odori Kitchen! and the lovely Liz.
Follow the path, and you'll come upon this lovely garden! The tiny white house to the left was our destination - and perhaps my new second favorite restaurant - Odori Kitchen! I think the big white building in the back is Shirahama Residence (according to the sign), but apparently it's not open yet. I assume it's an inn or something, but I haven't been able to find any actual info on the interwebs. I'll certainly be keeping an eye on it though!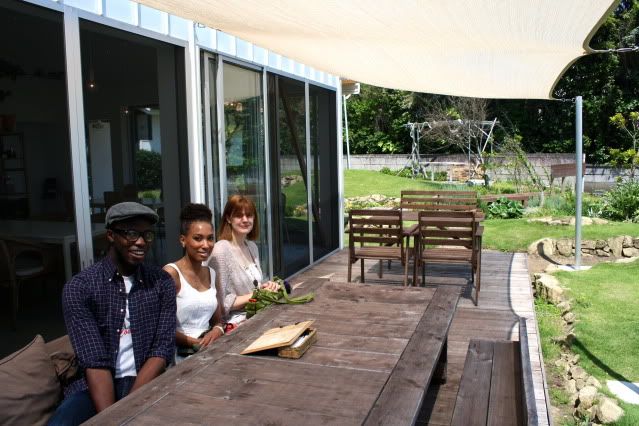 A perfect day with the perfect company~!
We scored the terrace seats! Inside is really nice and cozy too, but it seemed like a waste of the weather...not to mention the amazing garden and ocean view: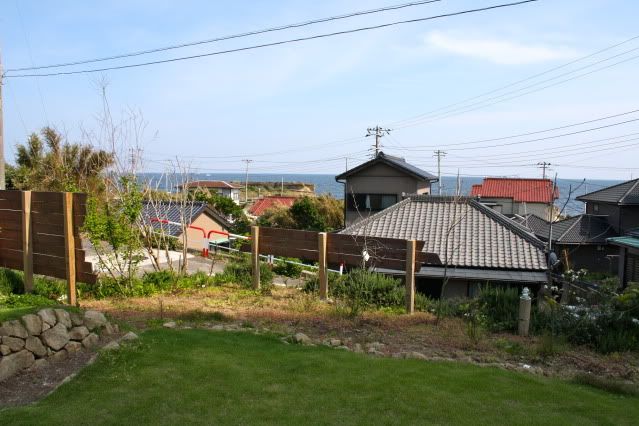 After confusing our very nice, friendly waiter, we put in our orders! For lunch, you can choose from the A or B sets. They are exactly the same in that they come with appetizers, main dish, and drink...but then, B set comes with dessert.
And so I present...food pic spam!!
(I don't actually know my food names so I copied them from
Liz's post
...all I know is that everything was amazingly delicious!)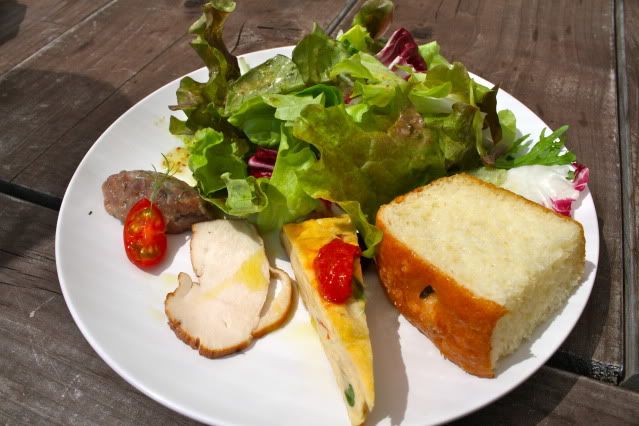 Appetizers!
The appetizers included salad, Italian-style omelette, some sort of chicken?, and
namero
. Plus bread straight from the restaurant's own oven. Everything was so perfect, but the
namero
particularly blew my mind.
Namero
is a traditional dish around the coastal areas of Chiba - raw fish minced together with miso, negi, and maybe some other things...but the one served here is Italian-style, seasoned with herbs. You just have to try it for yourself!
Anyway, on to the main dishes...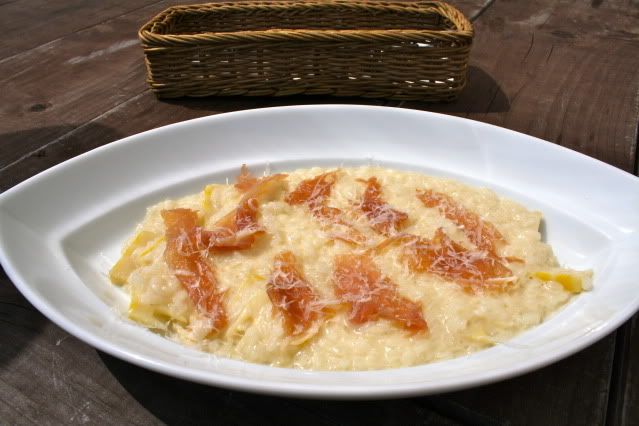 I chose the bamboo shoot & prosciutto risotta. Simple but the textures of each ingredient matched perfectly!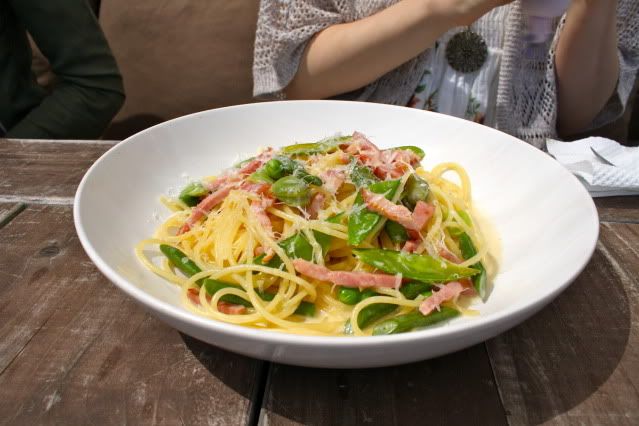 Bacon and green beans (string beans, sugar snap peas, and soramame) spaghetti.
It may sound easy enough, but it was sheer genius.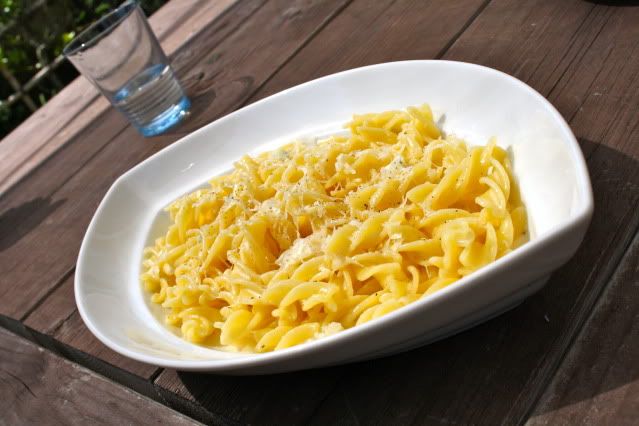 Gorgonzola fusilli. Feeling hungry? You can order a larger portion for any of the pastas, which is what my friend did! :)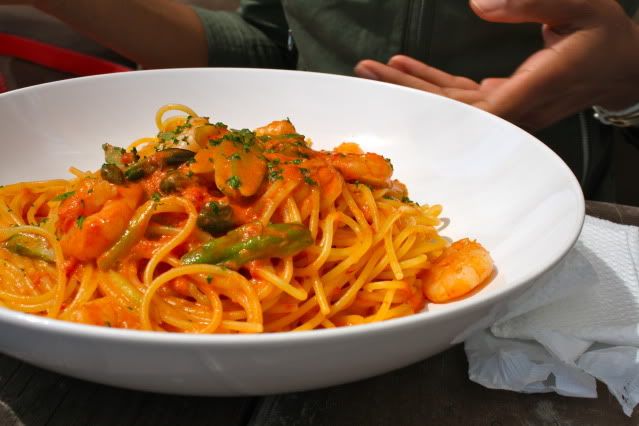 Shrimp and asparagus tomato cream spaghetti. This is next on my must-eat list.
After demolishing our main dishes, next was dessert!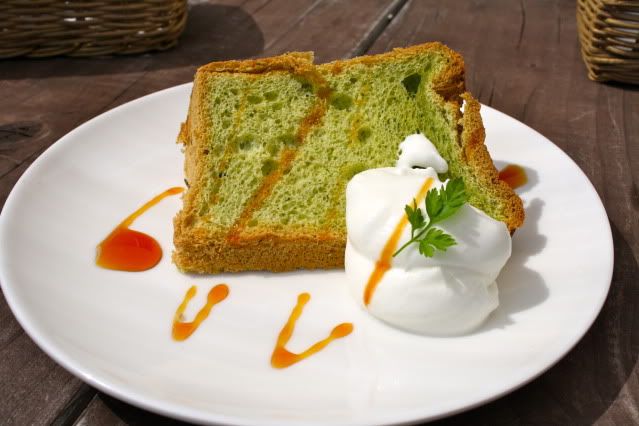 Spinach chiffon cake! It was very light and fluffy...and the color is perfect for the spring/summer season!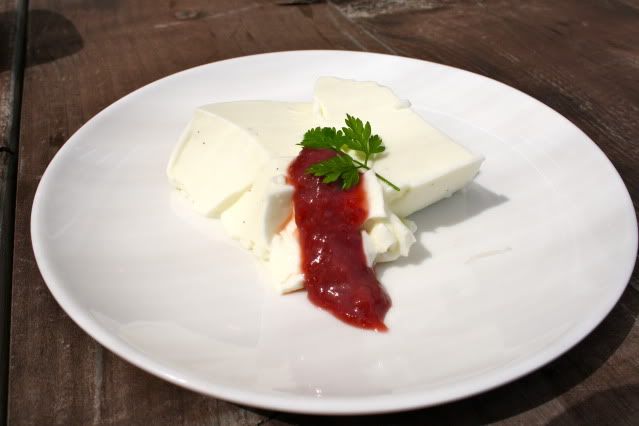 Panna cotta. I feel like I could eat this everyday and not get sick of it. It had a milky, vanilla taste well balanced out by the tartness of the berry sauce!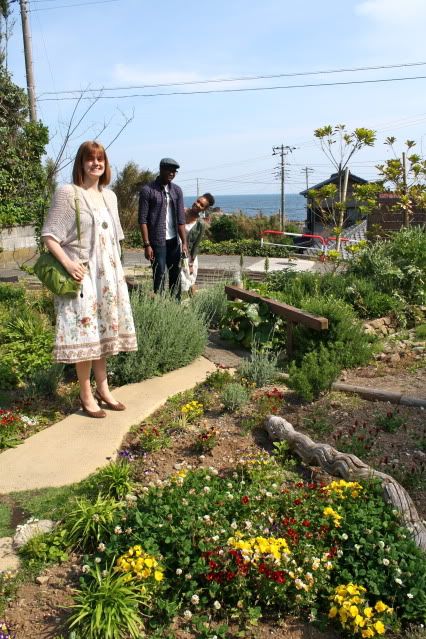 Stealing one last photo in the garden!
Feeling very satisfied and incredibly full, it was time to go home...but I will definitely be back! If you are ever in Minamiboso, this place is definitely a must. (With good reason), it's a huge hit with visitors and locals, so I recommend you check the website (has a google calendar noting which days are totally reserved, etc.) and call before going...you will not regret it!
Check out the website for more gorgeous photos, the menu, and all that good stuff:
http://odori-kitchen.com/