Rainy season is over!!!
With just a little over two weeks until my time here in Kamogawa comes to an end, things are getting pretty busy. This is also the busiest time of the year for Kamogawa, with beach season, summer vacation, fireworks, festivals...the list goes on and on, but all of these events are all held around the same time, during the summer months.
Below are some photos of a few of my favorite Kamogawa summer scenery, as well as some of the activities I'll be enjoying over the next couple of weeks!
During this time of the year, these mini frogs are
everywhere
. This is a photo I took awhile back because this little guy stuck to my windshield the entire time while I was driving to work one morning. I once saw one outside on the window of my office...which is on the 3rd floor. I always wonder how it got up there?? This photo makes the frog look decently big, but in reality they're probably not much bigger than an olive.
The rice crops seem to double in height by the day during this season! A couple more weeks and they'll be tall enough to look like they are rippling like waves when the wind blows.
It's extremely hot this year again, so I definitely am going to take advantage of the fact I live so close to the beach! Beach season in Kamogawa starts this Saturday, July 16, and runs until August 21!
This Saturday I'll be going to fish for
ayu
("sweetfish")! Basically we'll be waddling around in the river (at certain points the water may be so deep that it comes up to your chest)...and catching these babies with our bare hands! I did it for the first time last summer and only managed to catch one fish (they're really slippery so if you aren't quick to deliver the final blow, they'll slither out of your hands in a blink of an eye!) so this year I want to hopefully catch more!
Summer = BBQ! The Kamogawa Sea World Hotel offers all-you-can-eat barbecue and all-you-can drink. I think the BBQ was originally for tourists, but it's super popular amongst locals too. I went 5 times last summer and I'll be going again next week!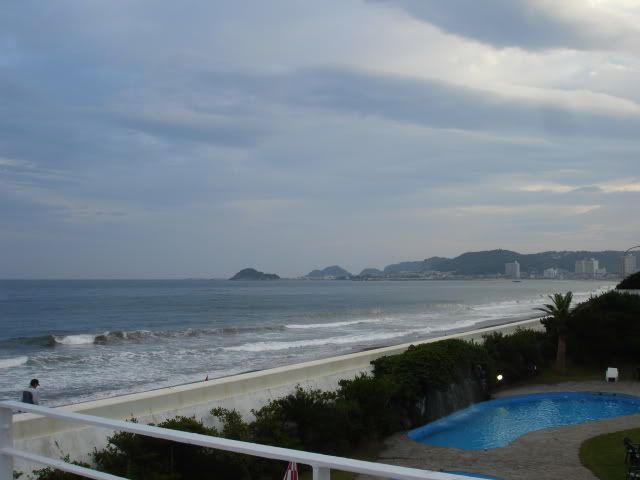 The view as seen from the Sea World Hotel terrace, where the BBQ is.
Last but certainly not least, Kamogawa Fireworks!! This year it'll be held on Friday, July 29 at 7:30pm, at Maebara Beach. Tons of fireworks events have been canceled throughout the country, so even more reason to enjoy them this year. I don't have a good photo, but I love the 水上花火 (water surface fireworks)...just as the name says, the fireworks explode right on the surface of the water! Apparently Kamogawa is the only city on the Sotobo side of Chiba Prefecture that has these fireworks~.
I also really really want to go blueberry picking, which is usually from the beginning of July to mid-August! Anyone wanna go with me? :D