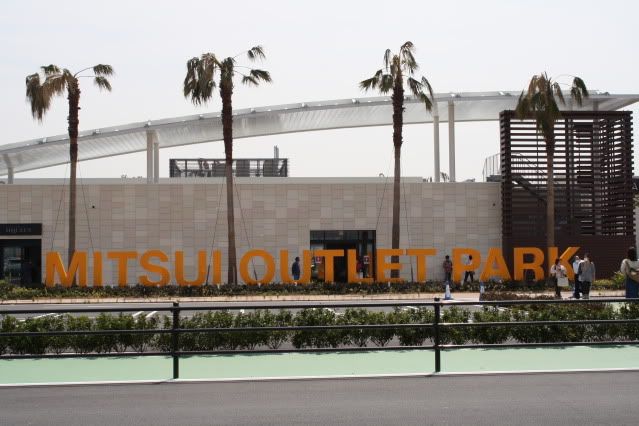 Mitsui Outlet Park = MOP. For some reason I just think that's super adorable!!
Curious about all the hype, yesterday I went to check out the grand opening of the shiny new outlets in Kisarazu, right near the Chiba-side entrance of the
Tokyo Bay Aqua-Line
.
To be honest, I was a little skeptical about this place. I love shopping, and I love shopping even more so in Japan....but I feel like it's always really hard to find clothes for prices that I'd ever actually call a bargain. I am happy to say that I was quite wrong!!
Things that I really love about MOP Kisarazu so far: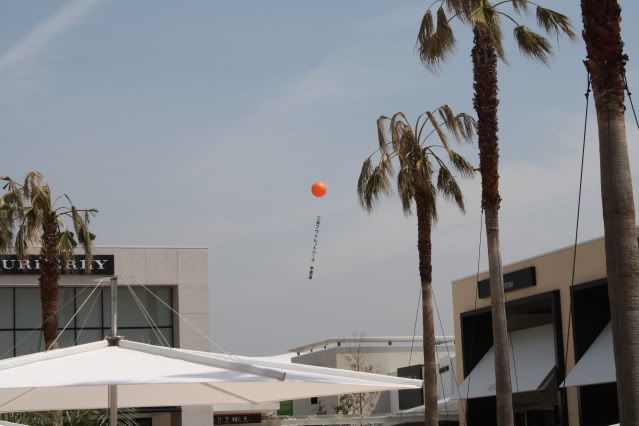 Look out for the bright orange balloons (with banners hanging from them that say "三井アウトレットパーク木更津") when you get off the highway!
The first thing I love about MOP Kisarazu: it is so close! I was coming from Chiba City, and my friends came from the southern outer edges of Chiba Prefecture...but it totally only took us about 40 minutes! It also only takes about 40 minutes to an hour (depending on where you're coming from) by highway buses departing from Shinjuku, Yokohama, Kawasaki.
It also looks like they've expanded and cleaned up the local roads and they had a TON of parking, so we didn't have to wait long at all to get into the outlets!
Another thing I love about MOP Kisarazu: Shop selection!!! They had a lovely balance of Japanese brands and non-Japanese stuff! For example: ok they have the Nike outlet store here. Okay, they have it at Makuhari too - and for that matter, I can get stuff for much cheaper from the Nike outlet back home in the US. On the other hand, what I *can't* get in the US: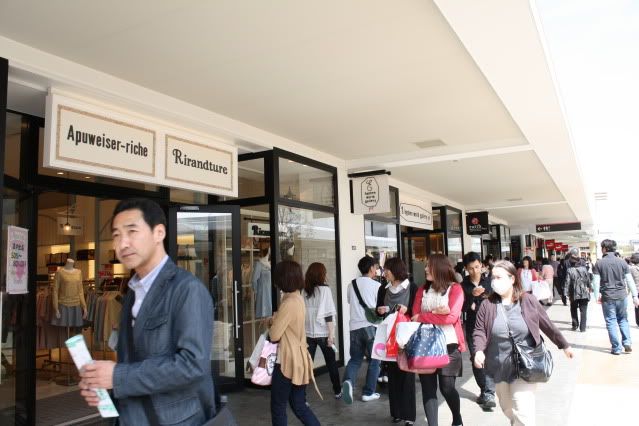 Store hopping for Japanese fashion brands!!
I have always loved the designs at these three brands: Apuweiser-riche, E hyphen world gallery, and earth music & ecology...so I was really really excited to see them here! They also had Design Tshirts graniph and tsumori chisato, some other stores I really love. Since the prices here were actually reasonable, I don't think I can ever shop at regular retail price again!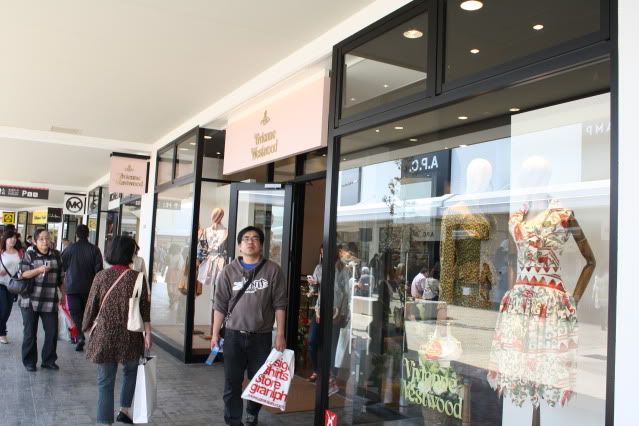 This guy looked SO confused when he popped out of the store just in time to stare into my photo.
Another long time love...Vivienne Westwood! This is just another thing I definitely
cannot
buy back home in the US.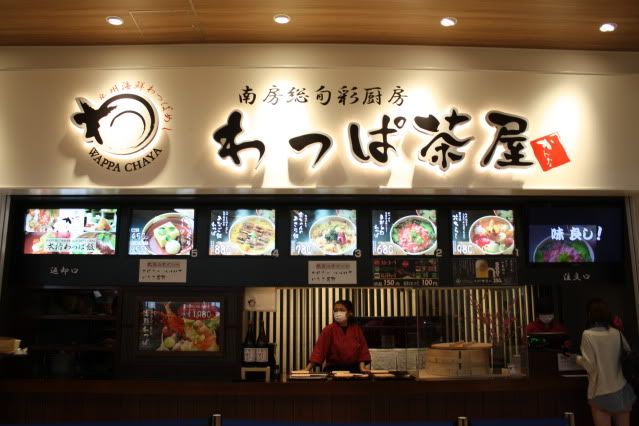 Wappa Chaya at the food court.
After a good shopping spree, it was time to refuel at the Food Court! They had a fantastic variety of popular restaurants from all over Japan, as well as local specialties from the southern Chiba area!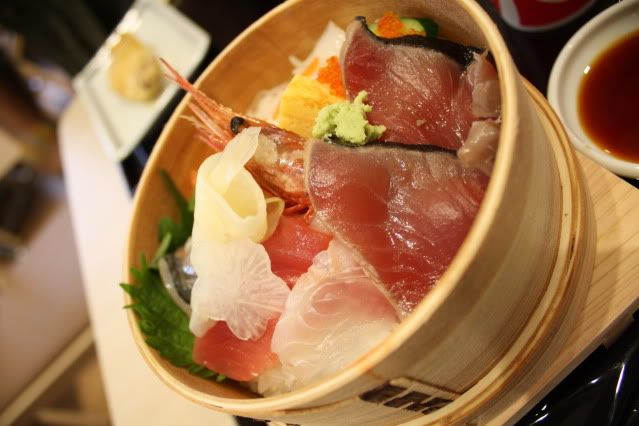 Seafood fresh from the Boso!
As we were getting ready in the morning to head out to the outlets, they showed this on the news...how could we NOT get it! The sashimi was so fresh it just seemed to melt away in my mouth. I really do miss the fresh seafood I could get for cheap when I lived near the coast...
We also made some new friends at the food court: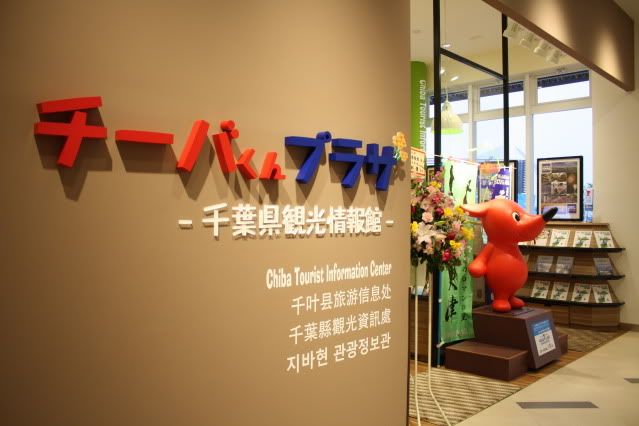 Also located in the food court is the Chiba Tourist Information Center, aka the チーバくんプラザ!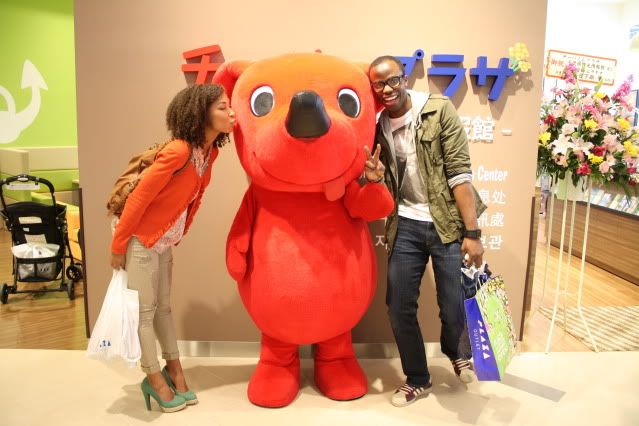 ...where we met the always adorable CHI-BA+KUN!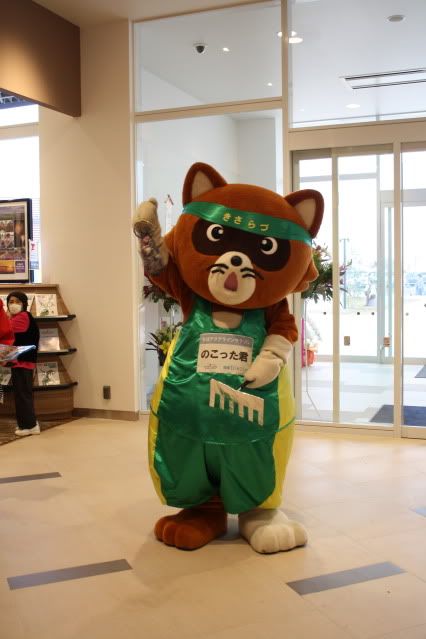 Nokotta-kun, from Kisarazu!
He is holding beach combing stuff, which is a really popular activity in Kisarazu from now until the end of the summer. Hopefully we will get to go this year!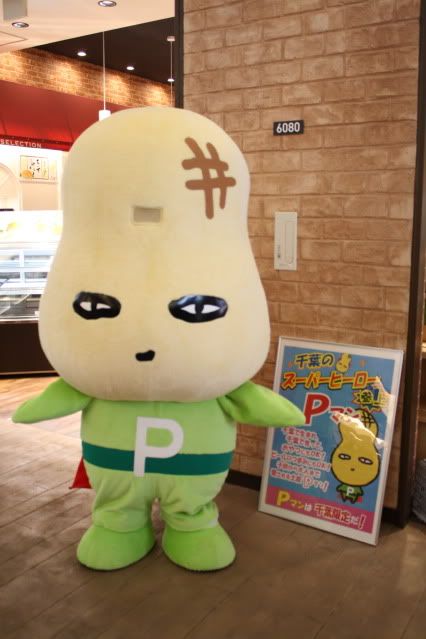 Perhaps our greatest discovery of the day: P-man!!!
This super cute and creepy mascot is P-man (Pマン)! He is supposed to be a delicious peanut born and raised in Chiba - that goes great as a snack or a side dish for beer! Apparently he pops up from time to time here at this souvenir shop selling Chiba-made foods, etc. here in the food court too....perhaps you'll meet him too!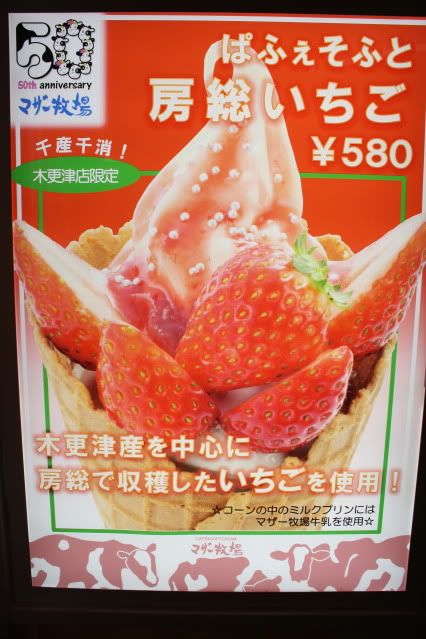 @ the Mother Farm Cafe
After our meal, we decided to brave the long line at the Mother Farm Cafe. Although I have yet to go,
Mother Farm
is a tourist attraction where you can go play with cows, sheep, etc., have barbecues, go strawberry or blueberry picking...they've extended their business to run these cafes! I only know of two now...the one here, at MOP Kisarazu, and the other one at the Lalaport Tokyo Bay shopping mall, but their soft serve is absolutely amazing. Since I am a sucker for limited edition things, I couldn't resist getting this "Boso Strawberry" parfait soft serve. It had vanilla soft serve topped with a mass of strawberries, with yogurt and chocolate crispies underneath, all in a giant waffle cone - and it was perfection. Apparently this is only available here at MOP Kisarazu, so come and get it!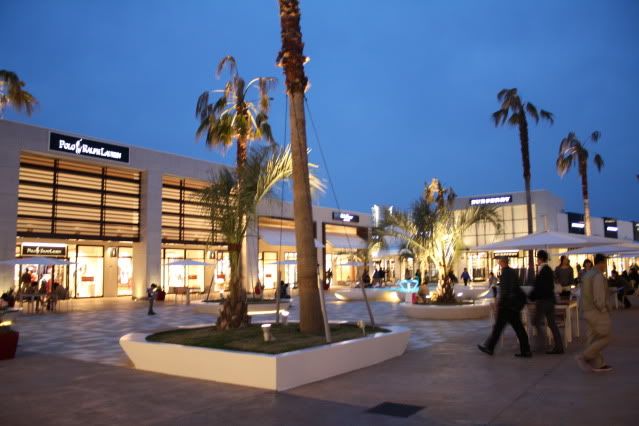 MOP Kisarazu at night.
With our stomachs full and hands full of shopping bags, it was finally time to call it a night! I think we spent a good 5-6 hours at the outlets. It was interesting to see how much the crowds had cleared out in the evening...perhaps because most of the people we saw there that day were families with younger children? So if you are trying to avoid the crowds, it might be a good idea to avoid coming here during the day and try coming in the evenings instead.
MOP Kisarazu...I hope to be seeing you again sometime soon!
Mitsui Outlet Park Kisarazu website:
http://www.31op.com/kisarazu/index.html