So at the end of May, my mother came to visit. As a part of our late Mother's Day celebration, I arranged for a stay at the wondrous
Tokyo DisneySea Hotel Miracosta
!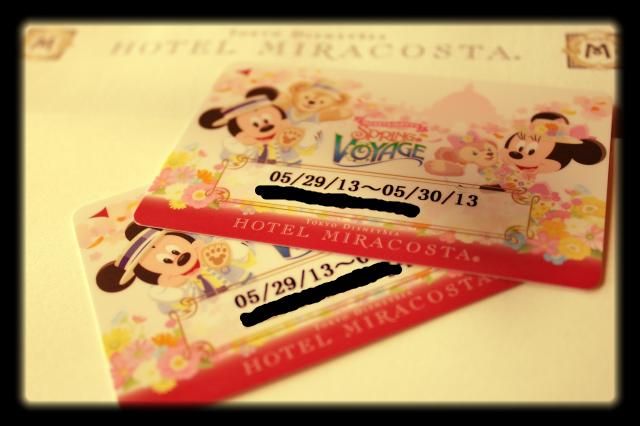 Our room keys. Each guest gets their own - to keep! Also, straight lines are hard to draw on a trackpad...
My family has gone to the Disney Resorts in Florida and California a handful of times when I was growing up. We've stayed at a handful of the Disney hotels, and when I was studying abroad in Tokyo, my parents and I even spent a few nights at the Tokyo Disney Ambassador Hotel. I was pretty confident I knew what it was like staying at a Disney hotel.
But the Hotel Miracosta rocked my socks off.
When I talked about how much I liked Disney, people here would almost automatically respond that I needed to spend a night here. But all I really knew was that the Hotel Miracosta is so popular that it's nearly impossible to book...supposedly you need to book over a year in advance - well, if you're trying to book directly. I hadn't planned that far in advance, but I barely managed to find an opening through a travel agency. Aside from the suites, Miracosta's rates (and availability!) depends strongly on which view you are booking - but I'll get into that a bit later in this post.
I was pretty skeptical with all the hype, but despite the lofty price tag, it was totally worth it. I'd so do it again.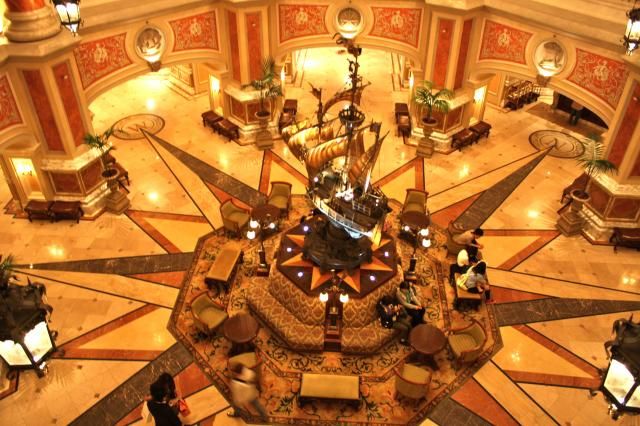 Hotel lobby!
Land of dreams for sure! Cast members in the entrance area will enthusiastically approach you to see if you need help with your luggage. If you come around check-in time, the lobby will be overflowing with people waiting - not too long at all! - to be shown to their room by a cast member. The Miracosta has all the best parts of Japanese and Disney service combined.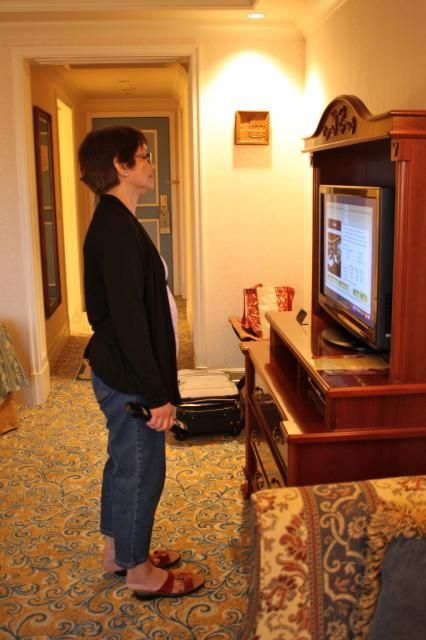 Studiously checking out the hotel info channel.
Maybe because I only really stay at business hotels in Japan, but the sheer size of the room really impressed me. I guess it is the size of a standard hotel room back home though - I guess I mostly only stay at business hotels here in Japan, where the rooms are about the size of a closet ;D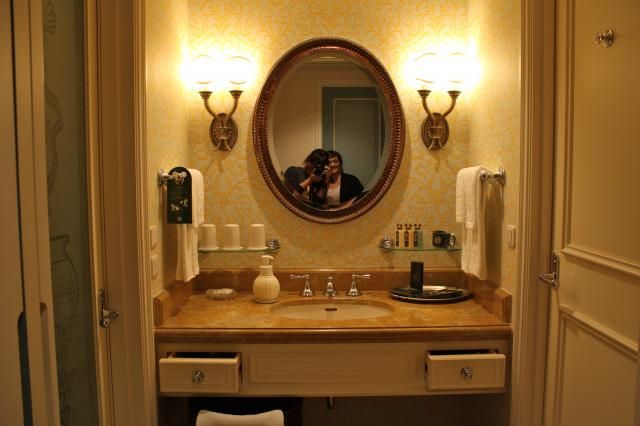 Being silly in the powder room.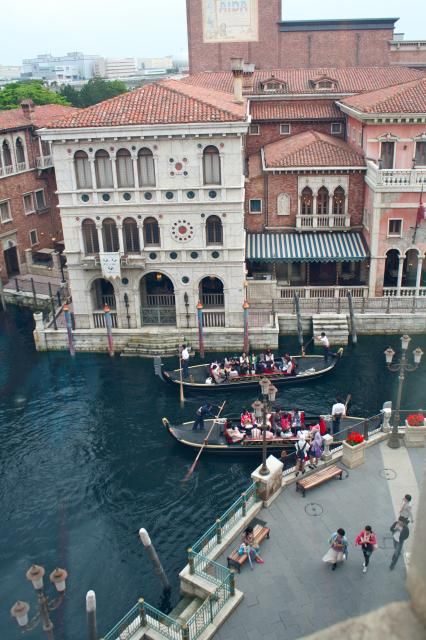 View from our room!
I touched upon this at the beginning of the post, but room availability and rates depend strongly on which side of the hotel you're trying to book. For standard rooms, there are
three views
are available (in the order of price/difficulty to book): the Porto Pallazzo side, the Venetian side, and the Toscana side. We were on the Venetian side, which offered a partial (but still gorgeous!) view into Disney Sea. Porto Pallazzo is by far the most popular side because it offers a full view into the park...someday I will stay in one of those rooms!!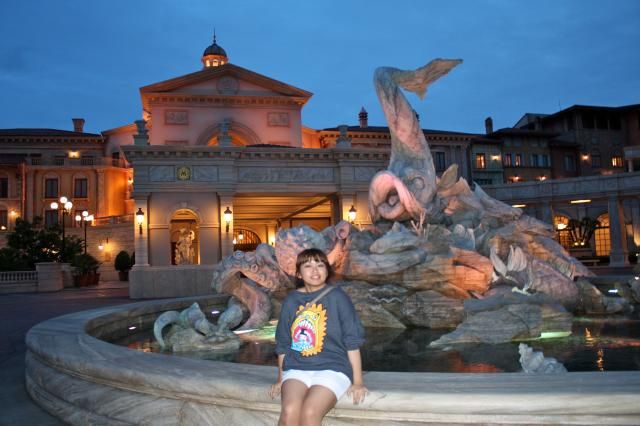 Out front the hotel! (Also, yes my sweatshirt is insane and that's why I love it!)
Guests of Tokyo Disney Resort get to enjoy all sorts of perks during their stay, like an unlimited pass for the Tokyo Disney Resort monorail during the duration of your stay, and early entry into the Tokyo Disney Land or Sea (available on the day of your check out as well)! Even cooler is that (1) if you purchase anything from the shops within the resort, they can deliver it directly to your hotel bell service - fantastic considering how much
omiyage
people buy here in Japan! and (2) even if you're only staying one night, like I did, you can check out and they'll hold your luggage until late that evening (10pm, I think?)!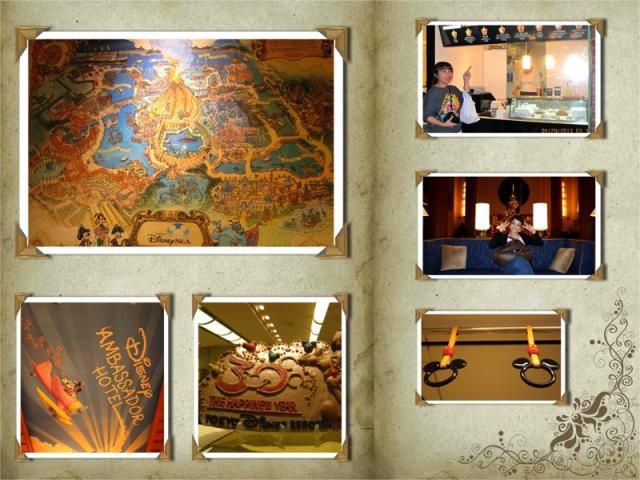 Wandering the Tokyo Disney Resort.
After settling into our room, my mother and I decided to take advantage of our monorail pass to go wandering around the resort. We took a lovely ride to the JR Maihama Station area, which is connected directly to the
Ikspiari shopping mall
and Tokyo Disney Ambassador Hotel!
Random shots as we wandered the Tokyo Disney Resort (counterclockwise, from the top left):
(1) Awesome giant map painting of Tokyo Disney Sea, located right by the Hotel Miracosta entrance to the park
(2) Ceiling mural at the newly renovated Ambassador Hotel - where my parents and I stayed 6 years ago!
(3) Giant cookie art (Happy 30th Anniversary, TDR!) the bakery inside the Ambassador Hotel.
(4) Mickey grabby things inside the monorail car!
(5) My mom being boss inside the Ambassador Hotel lobby
(6) One of my new favorite cafes - the epic
nana's green tea
, located on the ground floor of Ikspiari!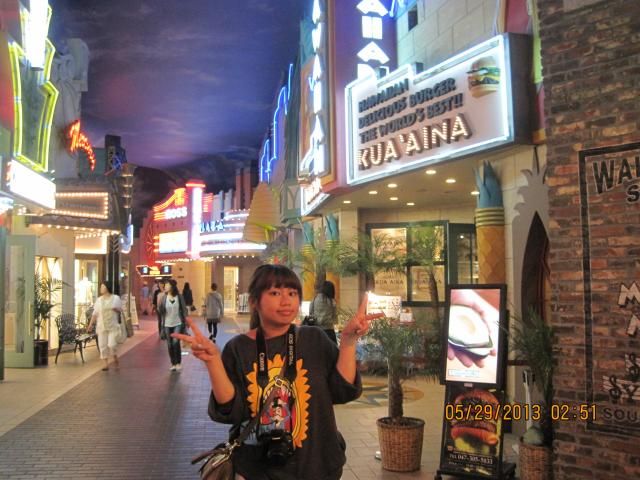 Retracing our steps from 7 years ago!
Next post...mother-daughter date at Tokyo Disney Sea!